Khasab Travel & Tours was established in 1992 by Abdul Khalique Ahmed, a native of Khasab, Musandam. The venture was set up with a clear vision – bring the rich, pristine and illustrious culture of Musandam and Oman, to the world. 
Having lived in Oman all his life, Abdul had all the expertise and knowledge about its history, biodiversity, and, most importantly, people. Inspired by his heritage, he decided to open an outlet that would allow others to experience what he had. Abdul envisioned and succeeded in opening the best travel and tour operator in his domain. Khasab Travel and Tours now offers prime tour packages, unencumbered excursions, and lavish Dhow cruise trips. 
The company began its operations via a humble office in the central town of Khasab. It gradually expanded to Muscat and began offering city tours and airport rental services. This proved to be a popular choice amongst tourists and locals alike. The company grew further and set up premises in the Warba Centre, Dubai. Soon more offices were set up in Hilton Hotel Ras Al Khaimah and Golden Tulip Resort.
Our passion for finding new routes has led us to become one of the most revered International Cruise Operators. We are also amongst the top-rated Oman and Musandam Tour operators, with a fleet of ever increasing Dhows and land vehicles.
 Khasab Travel and Tours now also offers multiple deluxe apartments that provide comfort and luxury, catering to their clients' every need. The company, staying true to its roots, also offers a wide array of engaging outlets for people to explore or simply get away from the daily mundane.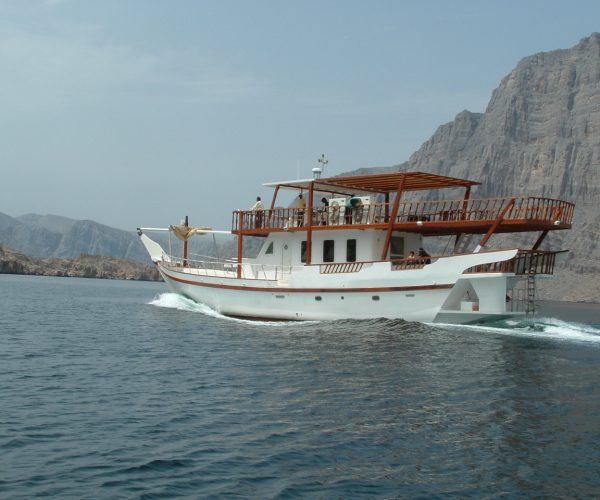 Mission
We believe in discovering adventures and crafting joyful memories. We strive to create an unparalleled customer experience. And to create unique adventures, which people remember for a lifetime.
Vision
We aim to establish Khasab Travel & Tours as the most reliable, convenient, and preferred travel partner in the Middle East. Our focus lies in providing high-quality services and fulfilling all your travel and tour needs. We aspire towards unmatchable customer satisfaction through proficiency in all our services.